22 days left until Freedom Walk Buffalo! Since January, the Bloggers Against Social Injustice-Buffalo, New York team (which I spearhead), has been working daily to bring an anti-human trafficking awareness walk to the State University of New York at Buffalo. However, this walk is not only meant for campus life. This walk is meant to join the campus with the surrounding community members because all people need to be aware that human trafficking is happening right in their very own town! This walk is free to attend, however, donations will benefit efforts in Western New York through P.A.T.H. Coalition and Southern Ontario, Canada through [FREE-THEM] to help rescue and rehabilitate peoples trapped in slavery. Aside from the countless details that come along with planning a walk comes the question of how we will be sure to make a lasting impact on the people who attend this event.
I was first inspired to host this upcoming Freedom Walk by the walk I attended for Bloggers Against Social Injustice's spotlight charity, [FREE-THEM], back in September. See post HERE. I was inspired and motivated by the speakers, organizations, and all of the people of all ages and walks of life. No matter how they looked, they all wanted to fight to bring freedom for slaves! This is what needed to be brought back to the State University of New York at Buffalo.
I am very excited about the honored speakers we have been so blessed to have booked for our walk. These speakers will help us understand why slavery exists, to whom it affects and what we can to to end it. By the way, slavery affects all of us. Do you know if the clothing you are wearing now was made by slaves?
Below you can read about our honored speakers, their story, and their pioneering efforts to end slavery. If you are in the Southern Ontario, Canada region, Western New York or Pennsylvania region we would like to extend a special invitation asking you to please join us and help bring our world one step closer to ending slavery!
Randy Phipps | Executive committee member and director of public relations for [free-them], based in Southern Ontario, Canada.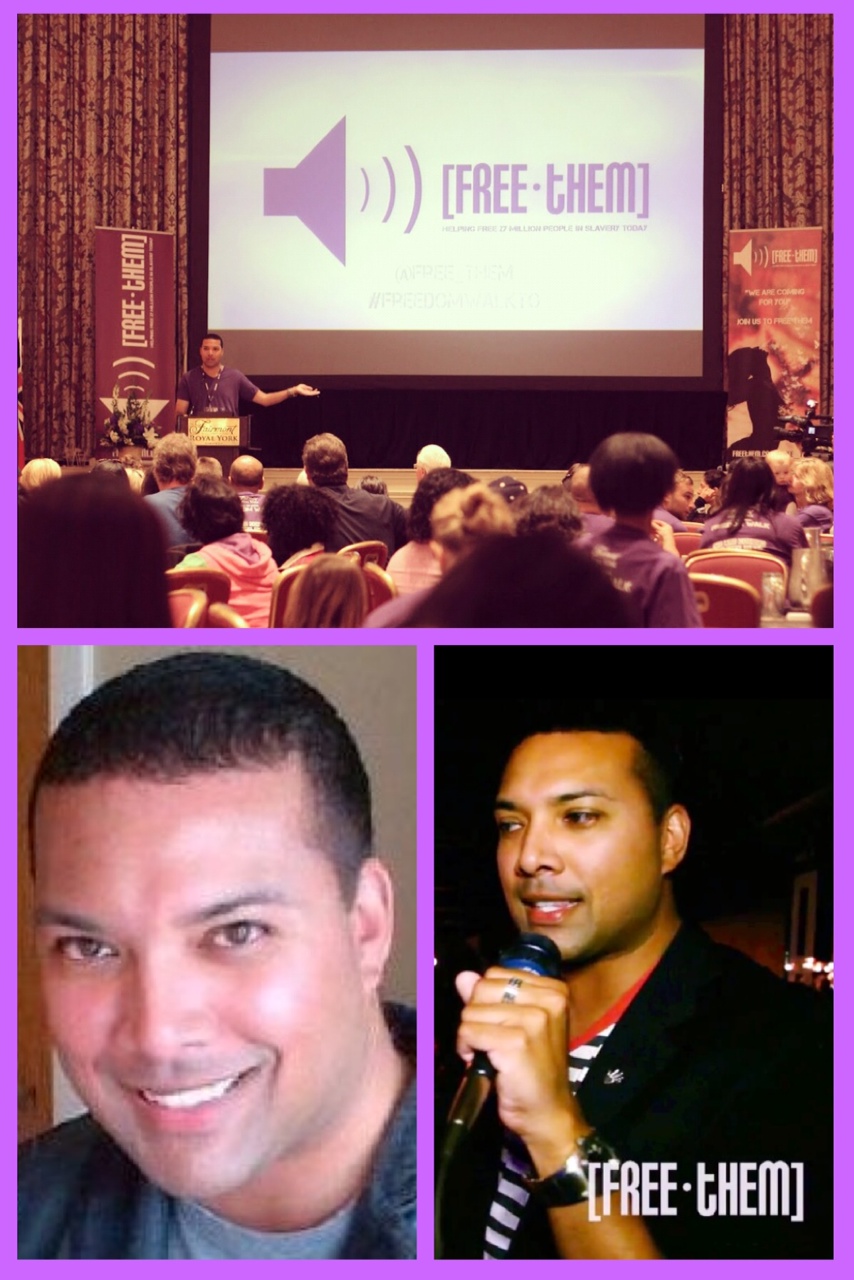 Randy Phipps joined the [free-them] team in 2010 shortly after the organization was founded. He is a member of the executive committee and deals with television, print, online and social media. [Free-Them], a Toronto based organization led by founder, Shae Invidiata have worked collectively with front line support, law enforcement and politicians to raise awareness about the global crisis of human trafficking. Randy has been been the lead in our celebrity relations which has garnered support from local and international entertainers to bring awareness to human trafficking within and outside of our borders. To date [Free-Them] has raised over $120,000 in funds to help human trafficking survivors in Canada and abroad. Their recent collaborative efforts have brought forth change by helping to amend two criminal codes in Canada that will prosecute traffickers and seek justice for victims. Recently [free-them] has has partnered with International organizations, The Somaly Mam Foundation and IJM Canada to expand their efforts to help victims on a global scale.
Anna Beard | Survivor advocate & human trafficking consultant. Beard will be joining us from North Carolina.
Originally from Kolkata, India, Anna Beard was adopted into an American family and raised in North Carolina. Throughout her life, she faced extreme sexual and physical abuse, eating issues and severe abandonment. She is also a survivor of domestic minor sex trafficking (DMST). Anna is a graduate of Mercy Ministries, a free of charge Christian residential program that assists young women with life-controlling issues. At Mercy Anna allowed God to restore her soul. She is on fire for God! As a survivor advocate, Anna is active as a consultant who assists various organizations throughout the country as they develop their own programs to help survivors of sex trafficking.
A powerful public speaker, Anna gave the keynote address at the Restore One Banquet in Greenville, NC. Anna also spoke at the Trafficking in America Task Force (TIATF) Conference in Nashville, TN. She also was a guest speaker for Children At Risk's Accolades Luncheon in Houston, TX. Anna also serves on the Advisory Board and Policy Advocate for Forsaken Generation. Along with serving as the keynote speaker for the Richmond Justice Initiative's "Trade of Innocents" screening , Anna also lobbied for anti-human trafficking bills at the Virginia General Assembly. Anna also served as a panel speaker for theNorth Carolina Coalition of Sexual Assault symposium "It's Happening to a Girl Near You" in Fayettville, NC.
Anna's story was also televised internationally on Univision's show Primer Impacto, Her story was also featured in The Salvation Army's "Young Salvationist" Magazine. Anna's story has also been featured on several websites such as: "Redemption Ridge" in Oregon and "In the Booth with Ruth" in the United Kingdom.
Anna has served as the Community Relations Director for On Eagle's Wings Ministries Fields of Hope Program branch in Miami Beach, FL. She recently enrolled at the University of North Carolina at Greensboro to complete her B.A .in Sociology. Although she misses working in abolition full time, she is excited to further her education. She is humbled by God's Grace and Mercy during her healing process. Most of all, she is just glad to be FREE!

Follow Anna on

TWITTER

and

FACEBOOK

!
Kerry Battenfeld | Victim services community educator/advocate with International Insitute of Buffalo. Joining us from Buffalo, New York.
Kerry Battenfeld is the Community Educator and Advocate with the Trafficking Victim Services Program at the International Institute of Buffalo. As such, she provides direct services to survivors of trafficking and educates local stakeholders on how to identify and work with trafficking survivors. She is also the Upstate New York Regional Coordinator for the Northern Tier Anti-Trafficking Consortium (NTAC). NTAC is a regional network of service providers that work with foreign-born survivors of human trafficking. As Regional Coordinator, Ms. Battenfeld provides training and technical assistance to NTAC providers across New York State.
Renan Salgado | 13 years Human trafficking specialist with the Worker Justice Center of New York. SEE MORE HERE
Honored Guests
Deputy Elizabeth Fildes | State department envoy to Africa to speak on human trafficking issues and Police officer of the Year Award, Erie County 2012.
Deputy Elizabeth Fildes has been a Spanish Speaking Deputy Sheriff for 30 years. She
has worked in the Erie County Holding Center, City Court and the County Court. While
working for the Sheriff's Office, she has worked as an Elementary Bilingual School
Teacher and has worked with at-risk students and the refugee population at Grover
Cleveland High School. While completing her Masters Degree in International Business
Management, deputy Fildes worked in career services at D'Youville College, assisting
college students with internships and resumes. Presently, Deputy Fildes has been
assigned as the Program Director of the Erie County Sheriff's Office Human Trafficking
Task Force, where she will train law enforcement officers in the Western New York
District, as well as assisting in the interview process of potential victims. She is also
member of the NYS DCJS Criminal Justice Subcommittee of the Interagency Task Force
on Human Trafficking. Deputy Fildes has been deemed an expert on the topic of human
trafficking by the U.S. State Department and has trained government, law enforcement,
non government organizations and media in Guatemala, Ecuador and Africa.
Deputy Elizabeth Fildes is a recipient of Minnie Gillette and Joan Bozer Achievement
Award in recognition of her contribution towards the empowerment of women 2010. In
October of 2011 Deputy Fildes received the Anne Lum Award from D'Youville College
for her service to her college and community. In April 2012 Deputy Fildes received
an Award for her Humanitarian efforts from Daemen College from the Sociology
Department along with 2012 Police Officer of the Year by Erie County Bar Association
for her dedicated work in her community. Deputy Elizabeth Fildes is a founder of United
Hands of Hope House were all proceeds will go to developing a safe house for Domestic
Victims in the Western District of New York.
Darlene Volmy | Miss. New York 2010
Joanne Lorenzo |
Co - Founder/Director
at
Lighthouse International Ministries
Please help us spread the word about #FreedomWalkBuffalo through twitter! Please Tweet:
Thank you so much for helping us bring an end to trafficking in the Western New York and Southern Ontario, Canada areas! If you are in the area, we hope you can join us and take a stand!