I want to make sure Peace's two posts on Wednesday had been appropriately read and thought about. Sabina's post on "Stop the Traffik" is also an important contribution on how we and victims can effectively spread the word on human trafficking. So please, if you have not read the last few updates, do!
_______
The Woodrow Wilson Center hosted a panel discussion on "Combating Sex Trafficking by Eliminating the Demand." View the panel below:
Many important points are made during the panel. Social justice and dignity should be given to all. Sex trafficking is a complex phenomena that requires community and international collaborative efforts to combat. The lucrativeness of human trafficking however makes the industry hard to crush, but because the demand is still present. What I want is everyone to listen to the panel, and let the discussion sink in.
Demand and supply go hand in hand. We cannot say that if we stop the middle-men, trafficking will disappear. An increase awareness of not only the risks, but of what makes up common decency must be raised to realize a world in which everyone does not even consider trafficking, slavery, and rape as possibilities. The intersectionality of human trafficking requires a multi-angled analysis and approach. With poverty, do not only think of individuals with little money in a low-income area, but also those who may be living in the most international and richest areas of the world. Economic growth attracts migrants and immigrants, and specifically the susceptible population of sex trafficking, to countries basking in increased opportunity. For example, Brazil now undergoes change in preparation for the Olympic Games, with protests and unrest as consequences, but banking on huge economic returns when the games begin. With it may come the rise of more sex tourism. Non-regulated prostitution is already legal in Brazil, but organised activities around the practice like brothels and pimping are illegal. Further, Brazil does not comply with all the elimination of trafficking standards.
Broadly, the standards include:
- Adequate promotion and protection of human rights
- Identification of trafficked persons and traffickers
- Research, analysis, evaluation and dissemination
- Ensuring an adequate legal framework
- Ensuring an adequate law enforcement response
- Protection and support for trafficked persons
- Preventing trafficking
- Special measures for the protection and support of child victims of trafficking
- Access to remedies
- Obligations of peacekeepers, civilian police and humanitarian and diplomatic personnel
- Cooperation and coordination between States and regions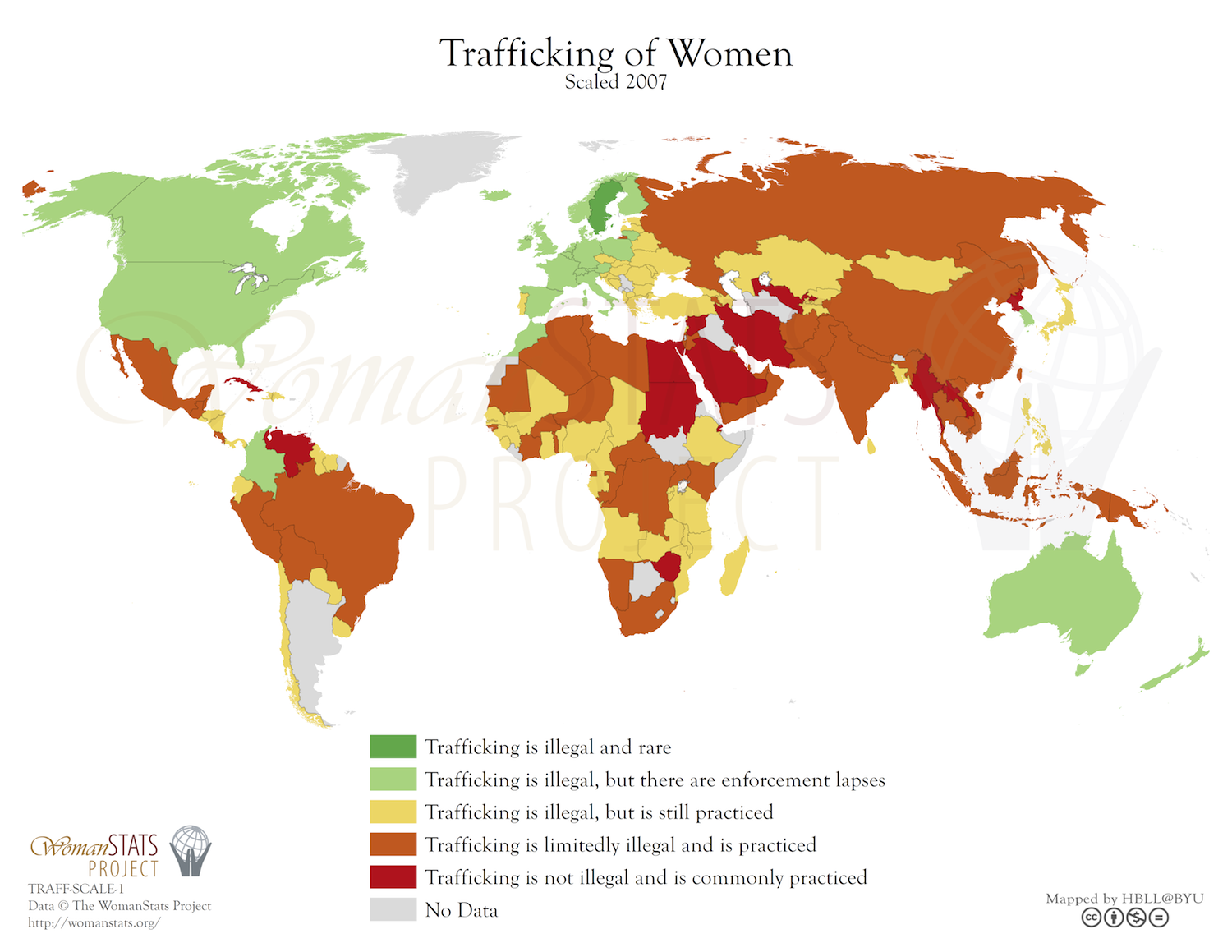 Trafficking of Women, scaled 2007; Woman Stats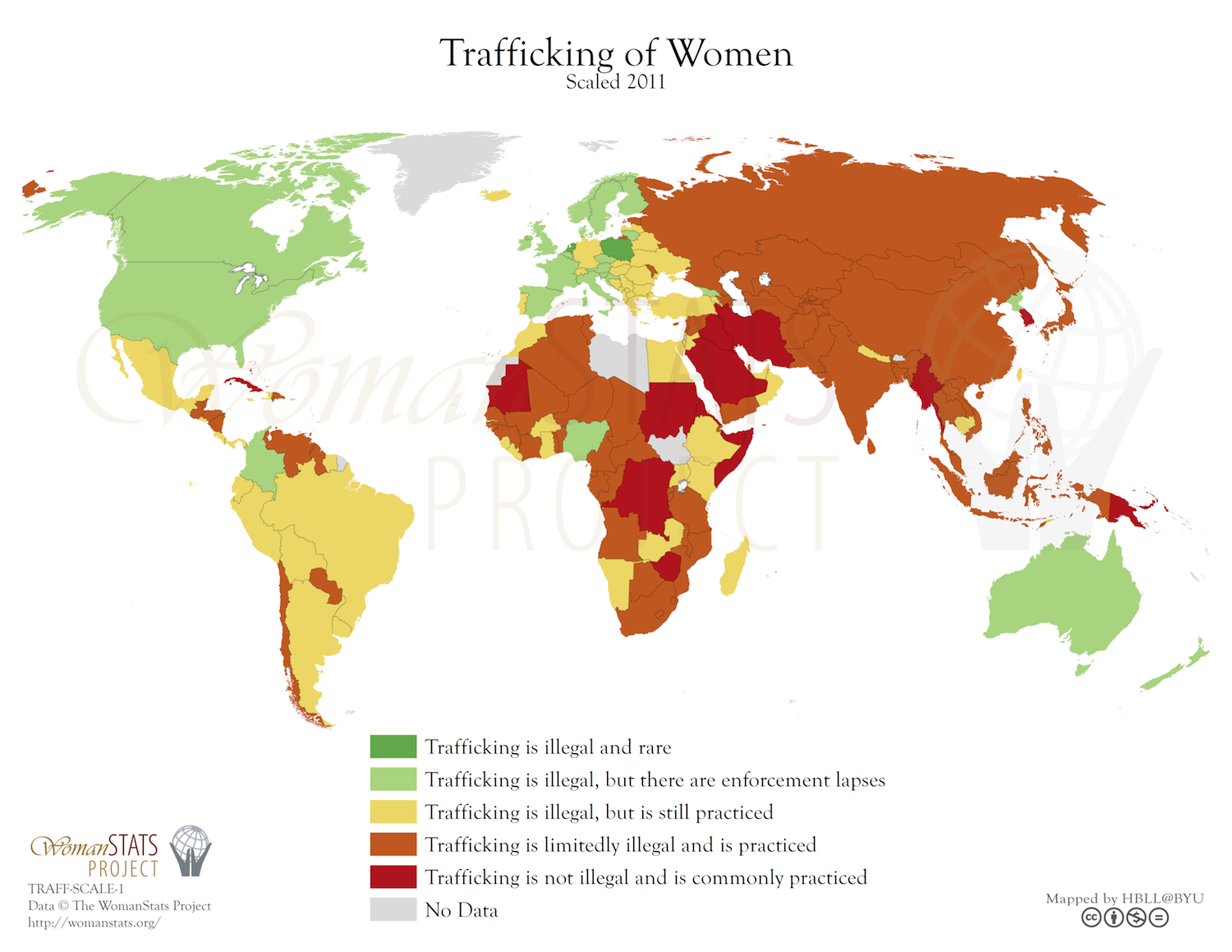 Trafficking of Women, scaled 2011; Woman Stats
Today's post will hopefully provide materials to develop our knowledge on sex trafficking.
Resources and Sources:
Woodrow Wilson Center:
http://www.wilsoncenter.org/event/combating-sex-trafficking-eliminating-the-demand
Inter Press Service:
http://www.ipsnews.net/2013/05/brazil-lagging-in-fight-against-human-trafficking/
http://www.ipsnews.net/2013/03/fighting-sex-trafficking-in-brazil-in-fiction-and-reality/
Ref World:
http://www.refworld.org/docid/51c2f3d318.html
Woman Stats' Maps:
http://womanstats.org/newmapspage.html
United Nations' Recommended Principles and Guidelines on Human Rights and Human Trafficking:
http://www.ohchr.org/Documents/Publications/Traffickingen.pdf