The Philippines, before the natural disaster, was and continues to be an island with coerced prostitution and forced labor and human trafficking.
PBS: In the Philippines, a Fight to End Human Trafficking
After Super Typhoon Haiyan, help trickled in all over to assist in the recovery efforts. Two month later, hundreds are still un-buried. Thousands missing. Millions displaced. Little infrastructure remains. Scenes of chaos marked the immediate aftermath. The response and relief efforts in the typhoon zone included assistance from other nations, a loan from the World Bank, and tracking by the United Nations. Rebuilding successfully will take a few years under good governance and economic growth, but corruption is rampant and the nation remains primarily poor. However, desperate for food, medicine, and other resources, many weather-related catastrophes breeds a resurgence or increase of human trafficking.
"A plea for help in SOS is painted on a road in an aerial view from a U.S. Navy Seahawk helicopter over San Jose, Philippines, Nov. 18, 2013."
(AP Photo/Wally Santana)
The UN Refugee Agency back in 2008 stated in regards to natural disasters that "Services exacted in order to deal with the consequences of the disaster and necessary for the life or well-being of the community shall not be regarded as forced or compulsory labour" and that there should be a continued prohibition of human trafficking and other forms of exploitation even during crises. Trafficking increases due to increased vulnerability of children, women, and other exploitable populations from social and physical dislocations.
Weather-related disasters are often reported focusing on the short-term results of the catastrophe: deaths, destruction, dislocation. However, reports often fail to emphasize the long-term repercussions: homelessness, unemployment, and disability, which in turn feed violence and sexual harassment, and illegal labor and trafficking.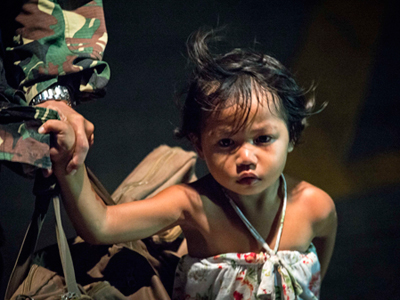 "A Filipino girl waits to be airlifted from Tacloban to Manila."
https://www.devex.com/en/news/human-trafficking-prevalent-in-post-typhoon/82576
Other Resources:
The UN Refugee Agency's PDF of Human Rights and Natural Disasters:
http://www.refworld.org/pdfid/49a2b8f72.pdf
Human trafficking a worry in post-typhoon Philippines, says US:
http://www.themalaymailonline.com/world/article/human-trafficking-a-worry-in-post-typhoon-philippines-says-us
http://www.straitstimes.com/the-big-story/typhoon-haiyan/story/human-trafficking-worry-post-typhoon-philippines-us-20131204
20 Ways You Can Help Fight Human Trafficking:
http://www.state.gov/j/tip/id/help/